Can Wisconsin afford more nukes?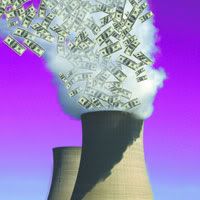 Wisconsin urgently needs to reduce its carbon footprint while providing safe, secure, dependable and affordable energy. One proposed solution is to build new nuclear reactors to boil water to produce electricity. But can Wisconsin afford new nuclear reactors? Energy expert Peter Bradford says no, and will explain why in talks in LaCrosse on Nov. 3 and Milwaukee on Nov. 5.
Related story: Milwaukee Dems vote Carbon Free,Nuclear Free.
With over 40 years of experience in the fields of energy and utility regulation, Bradford is particularly well suited to answer this question. He served on the federal Nuclear Regulatory Commission and is the former chair of the New York and Maine utility commissions.
Bradford will address the unfavorable economics of new nuclear reactors and debunk the myths that prop up the '€˜nuclear renaissance'€™ idea. He will show that nuclear power is more expensive than alternative ways of combating climate change and how new nuclear reactors can only be built with taxpayer subsidies. Bradford will illustrate how investing in nuclear reactors will cost Wisconsin jobs, not create them as claimed by the nuclear industry. And he will explain why Wisconsin'€™s state statute regulating the construction of new reactors is still a good law.
Bradford will speak Tuesday, November 3, at 7 pm at UW'€La Crosse, Graff Hall Main Auditorium, and on Thursday, Nov. 5, at 7 pm at the Urban Ecology Center, 1500 E. Park Place, Milwaukee. He also will participate in a panel on Saturday, Nov. 7, at the Future Cities conference in Madison.