Veterans Day parade excludes Vets for Peace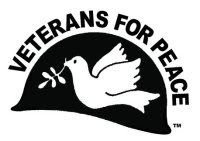 So, let me get this straight: Inviting non-veteran Scott Walker to march in the Veterans Day parade is not political, but having the word "peace" in an organization's name is?
Members of Veterans for Peace have again been barred from participation in Milwaukee's Veterans Day Parade.
Although the parade website says the event is Honoring all Americans who have served, it has refused to allow Veterans for Peace members " many of whom are combat veterans with Purple Hearts " from taking part in the observance on Saturday, Nov. 7.
The parade committee said Veterans for Peace is a politically motivated group, and therefore not welcome to be in the parade.
So much for honoring all Americans who have served.
Chapter 102 members (I am one) did not ask to participate in the parade to make a political statement, but to take our rightful place in the annual event saluting all who served our country in uniform.
 
Yet the committee, which finds us political, invites non-veteran politicians — Scott Walker, Gwen Moore, Tom Barrett — to march in the parade, and welcomes veterans groups which are outspoken in support of military action and war.
The committees reply, from Chairman David Drent, said,
There is no doubt that your organization is a politically motivated group.  One visit to the organizations website makes your views perfectly clear.

We dont make judgment on your purpose.  End the war or escalate it carries the same weight with the board.  A political statement is being made and there is no room in the parade for it.

We thank you for your service in our Armed Forces, but our goal has always been to have a day of honor that is 100% politically free.
The committees decision was unanimous, he said.
Yet the Veterans of Foreign Wars is welcome to march in the parade, even though its commander, Thomas Tradewell of Sussex, WI, recently called on President Obama to heed the assessment and advice of his military leaders and send 40,000 more troops to Afghanistan, suggesting that as commander-in-chief Obamas job is to do what the generals recommend. 
And politicians, some of whom are not even veterans, are invited to participate in the parade.
 
Apparently the parade committee doesnt consider pro-escalation positions or even politicians to be political."  Veterans for Peace is in a class by itself.
In his letter to the committee, Chapter 102s Mark Foreman wrote:
We share your pride in having served this nation, whether during time of peace or war.  We are a part of the Milwaukee community and of the veterans community. 

Our major project is a Homeless Veterans Initiative, which has been operating for a year, to find and assess homeless and at-risk veterans and help them get the services they need to reach their highest possible level of independence.  It is work we do on a daily basis with the estimated 3,900 to 5,200 veterans who are homeless in Milwaukee every year.

We do not ask to participate in the parade to make a political statement, but to take our rightful place in the annual event saluting all who served our country in uniform.  Veterans cover the political spectrum, as they represent the diversity of this country with a mix of race, gender, religion, economic status, and other characteristics.

What we all have in common is our service, which is what Veterans Day celebrates.  We respect other veterans and other veterans organizations.  All we ask is that your committee pay us the same respect.

We have been told in the past that the very name of our organization, Veterans for Peace, is political and therefore cannot be part of the parade. 

But we believe all veterans who have experienced war share a desire for peace. As U.S. Senator John McCain, a decorated war veteran, has said, "Only a fool or a fraud talks tough or romantically about war "I hate war, and I know how terrible its costs are.  Senator McCain also said, Veterans hate war more than anyone else.

Many Veterans for Peace chapters across the country are welcomed and march in Veterans Day parades in other cities.  We hope Milwaukee will reconsider its previous position and welcome Veterans for Peace in its 2009 parade.
 Chapter 102 members will attend the parade to collect donations along the route for our Homeless Veterans Initiative, and distribute flyers explaining that VFP is not welcome in the parade itself.
VFP will continue to press the committee to do the right thing in the future.  You can help, by expressing your views to the committee.   Write: Veterans Day Parade, Box 684, Milwaukee WI 53201.  Call 414- 414-453-8753.  Or email: vetsparade@tds.net 
Sponsors of the parade listed on the website are:  Batteries Plus, Tropic Banana Co., Meyer and Wallis, Budweiser, Radio Station FM 106.1, Paul Conway Shields and Equipment,  WISN Radio, and the Milwaukee County War Memorial Center. 
Drent, the parade committee chair, is also executive director of the War Memorial Center, which receives $1.5-million a year in support from county taxpayers. 
I think it's time to take our case to the sponsors and elected county officials, to let them know the self-appointed committee,including a tax-supported sponsor,  is excluding military veterans from what should be a community-wide observance honoring those who have served, as the parade website claims.
>Veterans for Peace, Iraq Veterans Against the War, and Vietnam Veterans Against the War will sponsor a Veterans Day celebration on the day itself, Wednesday, Nov. 11, at 7 p.m. in the rotunda of Milwaukee City Hall, 200 E. Wells. The public is invited — even war hawks.